Foodgasm is a euphoric feeling of satisfaction and pleasure that occurs due to the consumption of delicious food. If you are a traveler heading out for a food hunt, delicious Asian foods await you in Asia. It is no secret that Asia offers you some of the best culinary delights in the world. From spicy to light, exotic to basic, food is an art to experience here.
As a large continent with about 50 countries, travelers can serve themselves unique Asian foods at every new destination. From popular cuisines like Chinese, Japanese, and Indian to the less explored ones, Asia has a match for each of you. While it is near to impossible to try all of them we've made it simpler for you by selecting the very best of this wonderful land.
While most of you don't consider foods to be the primary reason to travel, it's best to try new dishes and treat your palate every now and then. Here, we've listed 13 of the must-try delicacies sure to give you a soul-soothing taste in Asia.
1. Ema Datshi (Bhutan)
Price: – 2 USD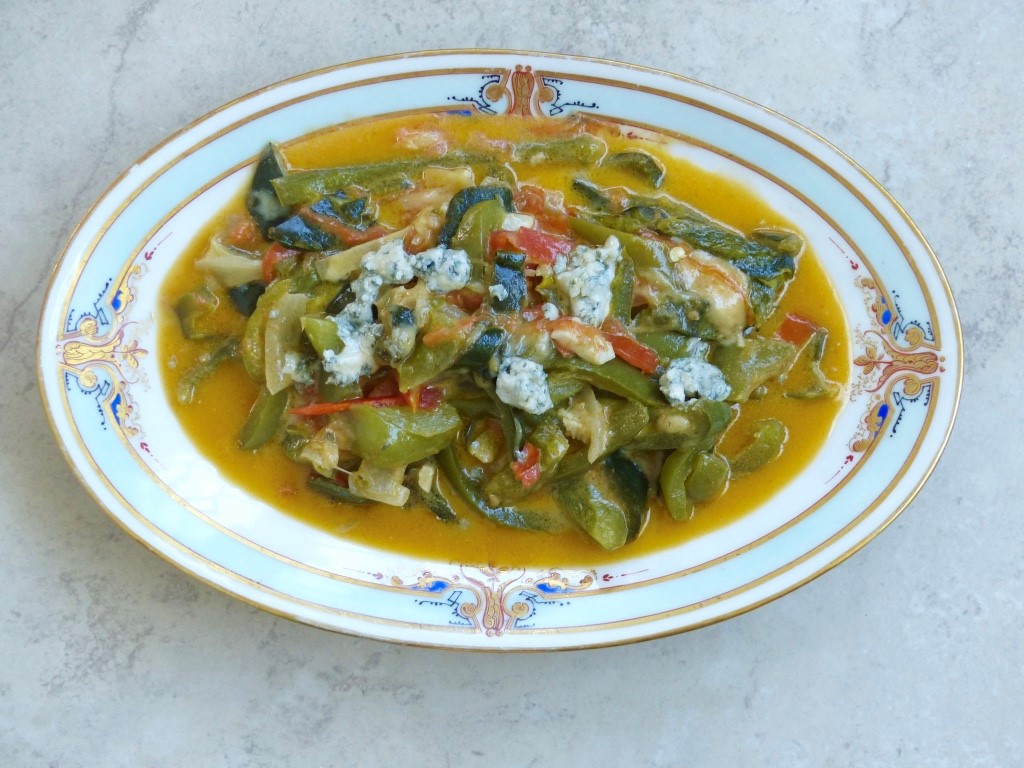 Ema Datshi is a gem taken out from the less-explored or documented Bhutanese Cuisine. Made with cheese and hot chili pepper, its taste is unrivaled among first-timers trying it. The cheese is made from Yak milk, the cows of the Himalayas. Combining both is a filling and tasty meal cooked in unique Bhutanese ways. Kewa Datshi is a less spicy version that you can try substituting potatoes with chilies. Don't miss out on this wonderful dish while you are in Bhutan.
2. Sushi (Japan)
Price: – 40 USD average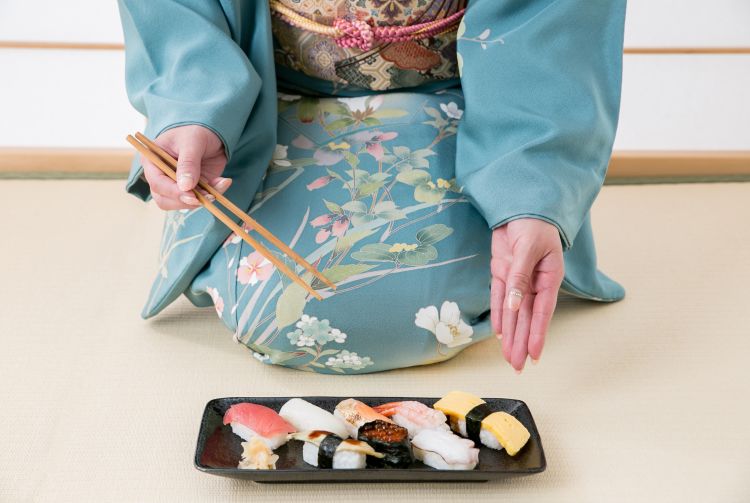 Sushi is not just food, it is an art, a Japanese culture drawn in a plate of delish. Sushi basically is a dish of Japanese vinegared rice accompanying numerous varieties of ingredients. Mostly seafood, vegetables, and occasionally tropical fruits are enclosed in Sushi. Sushi Masters with years of training prepare these delights before you and each bite treats you with a flavorsome punch. Even in the expensive spectrum of food, Japanese Sushi is worth every bit.
3. Kung Pao Chicken (Sichuan, China)
Price: – 6 to 25 USD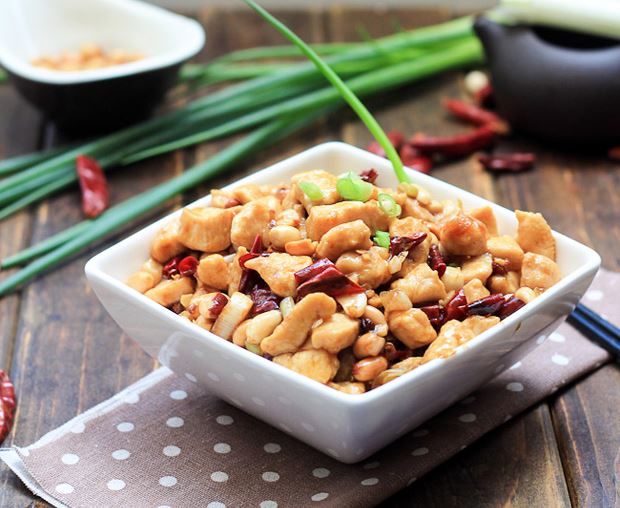 The Sichuan province is the spice capital of china and Kung Pao Chicken is simply a Chinese takeout with spicy chicken. Served with peanuts and vegetables the king of the dish is the mouthwatering KungPao sauce. The numbing flavor of dried red chili and a load of them makes this dish ideal for spice loving individuals. Kung Pao Chicken is a healthy dish as well for which you shouldn't wait for a cheat day to try.
4. Momos (Nepal-Tibet-East India)
Price: – 1.5 to 12 USD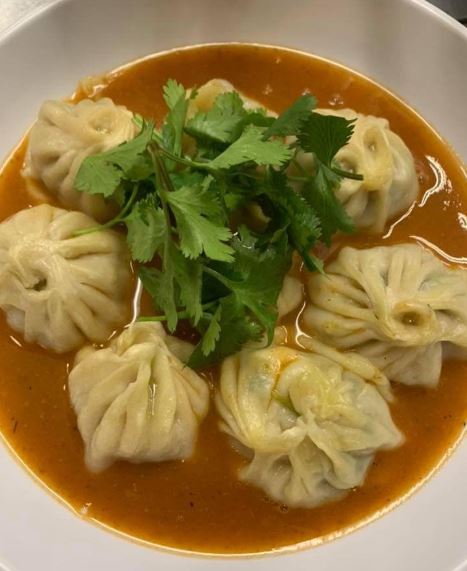 Momos are generally steamed-filled dumplings served with different flavored dip-in sauces. Even though they originated in Tibetan Plateau, the dish has traveled all over Asia. For the best momos, one has to try eating it in the Nepalese capital, Kathmandu. You can choose between the vegetarian and non-veg versions of fillings that are savory and filling. The sauce that goes with these dumplings adds more flavor and completes the dish. Momos are almost part of the modern culture here. 
5. BanhMi (Vietnam)
Price: – 1 to 5 USD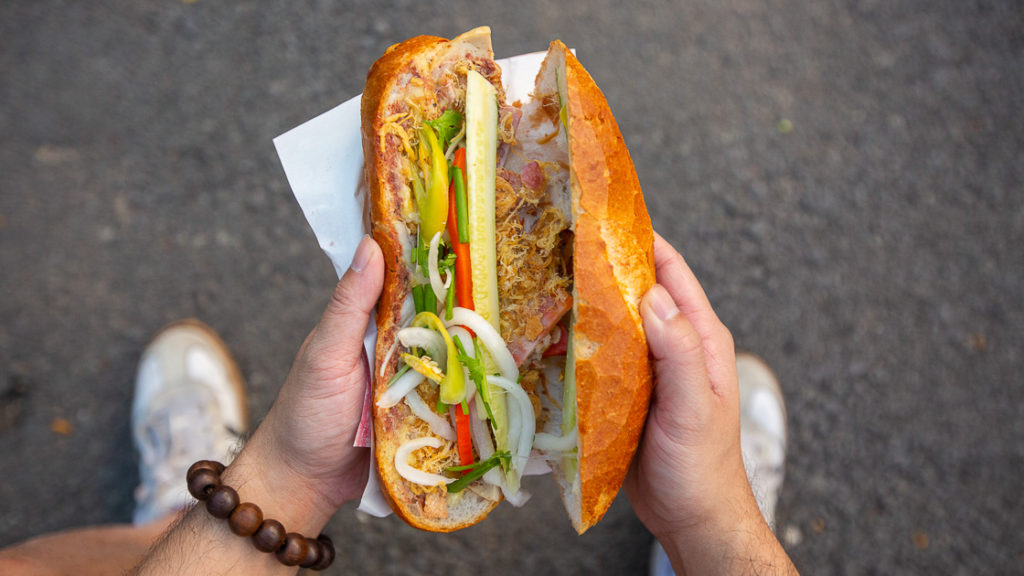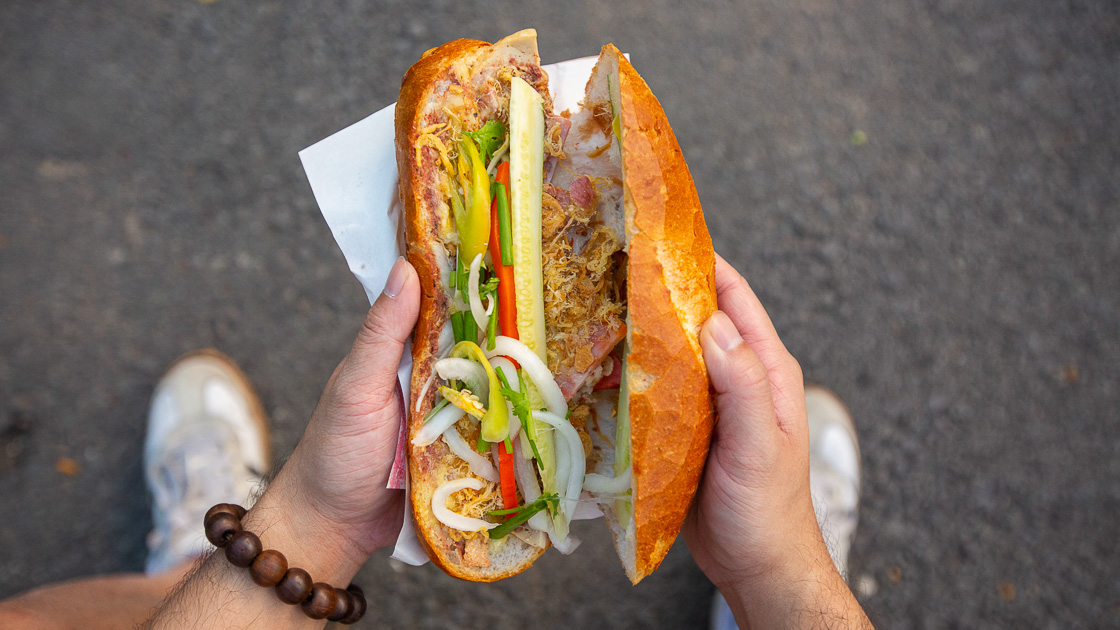 BahnMi is a Vietnamese twist to the western sandwiches with more flavor. Vietnam is the king of budget street food and BanhMi is among the most preferred ones. Enclosed in a soft baguette is a mixture of stuffings, Banh MI is simple but equally delicious. Pickled daikon, radishes, spicy chilies, and fresh herbs with different protein choices to add, BanhMi has everything you want in a sandwich. The juicy dish is a mixture of texture and flavor to enjoy while you are in Vietnam.
6. Shish Kebab (Turkey)
Price: 7 to 11 USD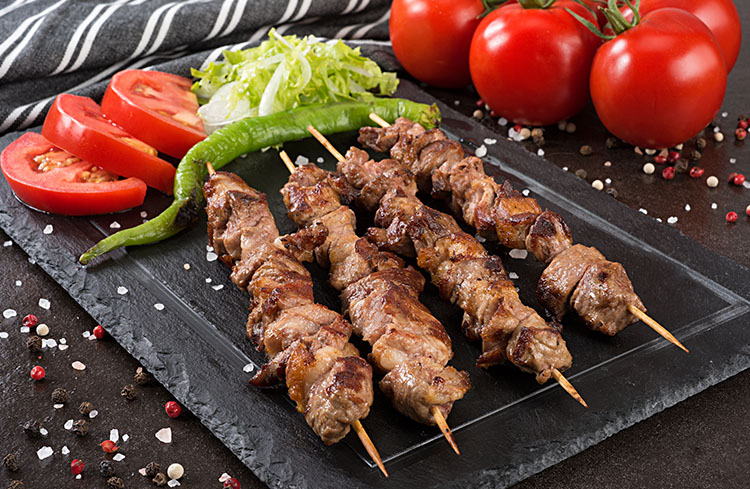 Shish Kebab is one of the most popular classic-skewered meat dishes popular all over the world. But, if you want the taste of the original stuff Turkey is the place to be. Although the Doner Kebab is the picturesque and eye-appealing one, Shish Kebab is unrivaled on flavor. The meat is marinated in different condiments and sauce beforehand, cut in uniform cubes, and skewered uniformly over coal. The final result is juicy and flavor-packed meat that can be eaten with bread or roti as well. Shish Kebab in Turkey will change your definition and memories of kebab once and for all.
7. Dim Sum (Hong Kong)
Price 10-50 USD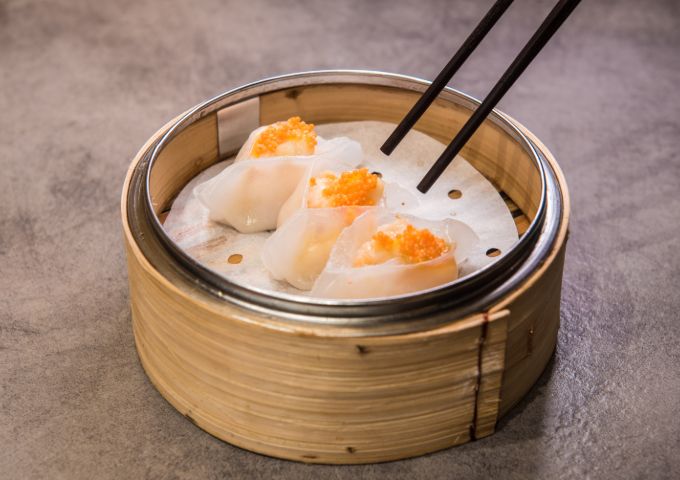 Dim Sum is a Chinese bite-sized dumpling steamed and served in steamer baskets. These Dumplings have a large variety of fillings which is served with tea. The best part of Dim Sum is in a single sitting you can experience different flavors, texture, and garnish of Dim Sum. With dumplings, Dim Sum also has rolls, bun, meatballs, cakes, seafood, vegetables, rice, and even dessert. Enjoy a great session of Dim Sum while you are in Hong Kong.
8. Falafel (Israel)
Price: 2 to 7 USD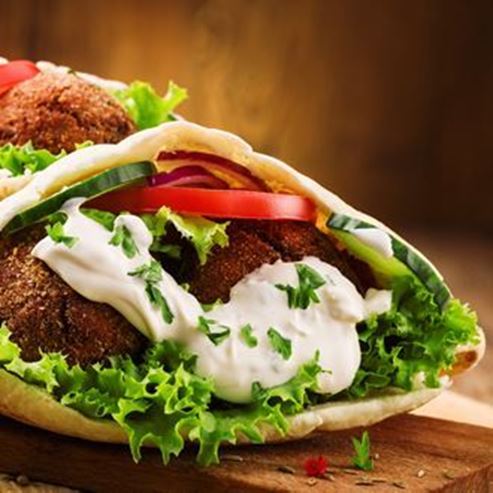 Falafel is a deep-fried delicacy made from ground chickpeas and fava beans. Wrapped in flatbread and served with toppings and sauce of different kinds, Falafel is one of the most popular dishes to try in the Middle East. Although different versions of Falafel have made its way throughout the world to get the tastiest you have to be on Israel. A vegan-friendly snack, people fall in love with these and always go for a second. If you are in Israel you shouldn't miss Falafel.
9. FISH AMBUL THIYAL (Sri Lanka)
Price: – 3 to 7 USD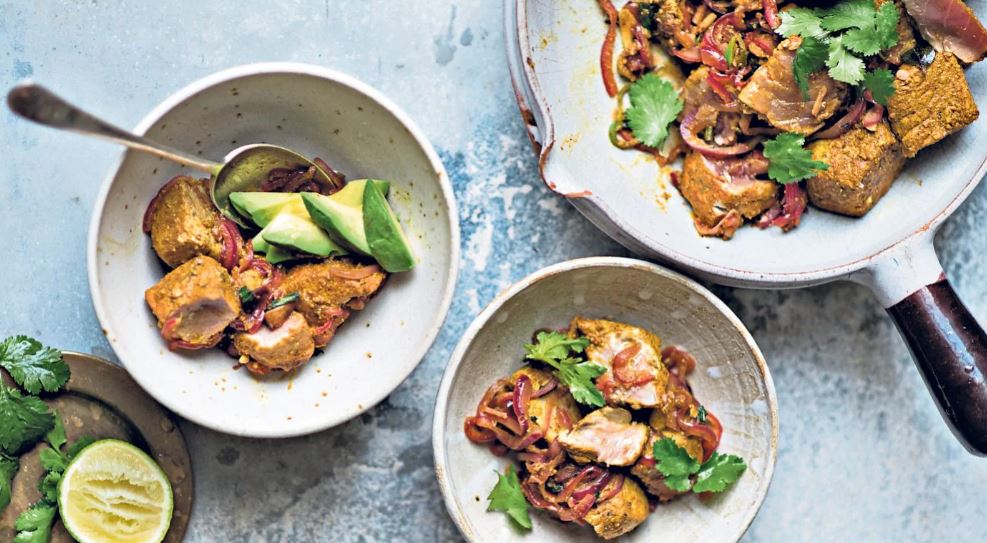 Fish AmbulThiyalsummarizes all the flavors and delights from the island nation of Sri Lanka. This sour fish curry is a delight of aroma and taste in itself. The choice of different spices and ingredients, Fish AmbulThiyal is best prepared over wood fire. Although being primarily a fish dish, the acid of Goraka eradicates the fishiness resulting in a pleasant and juicy curry. Served with rice, this dish will complete your Sri Lanka tour with a pint of happiness.
10. Satay (Indonesia)
Price- 0.2 to 0.5 USD per stick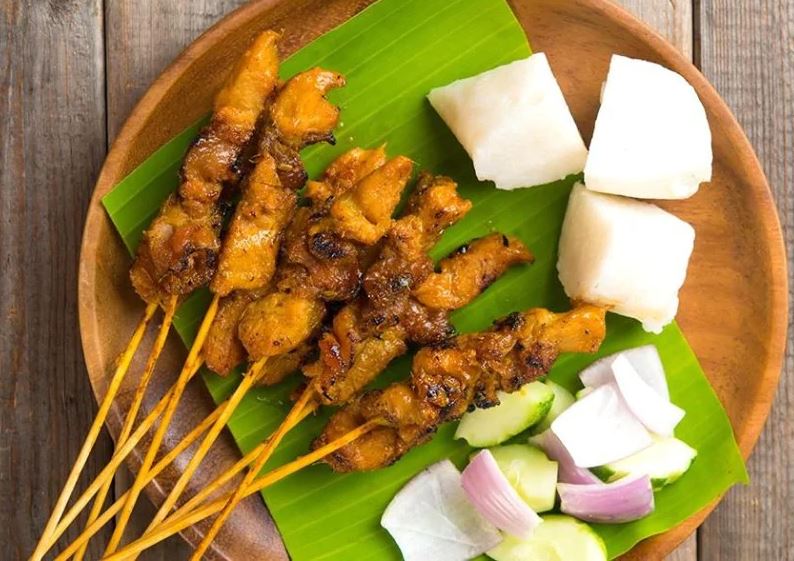 Satay is an ideal drinking food. The flavor just slams you through levels with the Seasoned, Skewered and Grilled meat in a stick. With spicy sauce options, each stick is small and can be completed in a couple of bites. The meat options are just diverse with chicken, mutton, pork, fish, and beef being very popular. Vegetarians can select different vegetables and tofu for a complete satay experience. Prepared over wood or charcoal fire, Satay is a joy wrapped in a stick to try.
11. Biryani (India-Pakistan)
Price: – 5 to 15 USD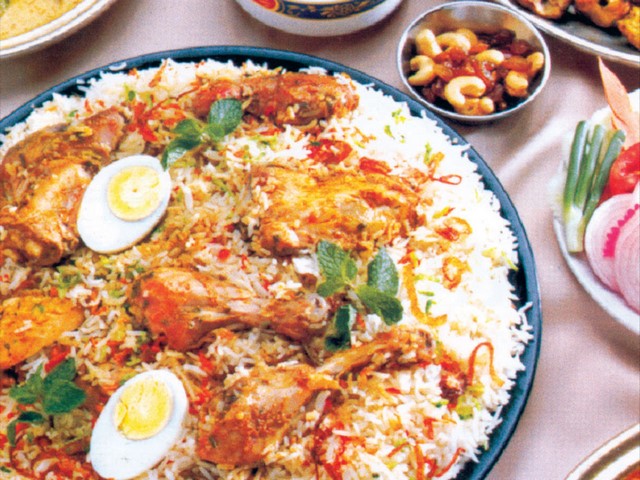 Biryani is an iconic dish popular in the Muslim communities of Pakistan and India. It is one of the festive dishes made with long grain rice and meat of your choice. Chicken and Mutton Biryani is among the favorite ones when it comes to Biryani. This aromatic and tasty dish is packed with flavor and goes well with soft drinks. Biryani is a traditional dish with an unchanged recipe for ages and still, it is regarded with a royal dish for you to try.
12. Pho (Vietnam)
Price: – 1 to 4 USD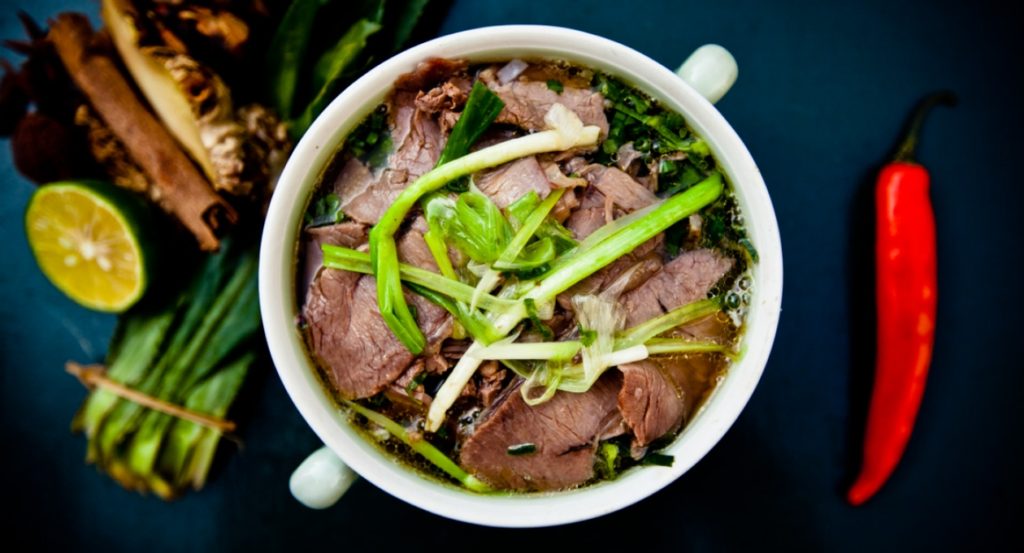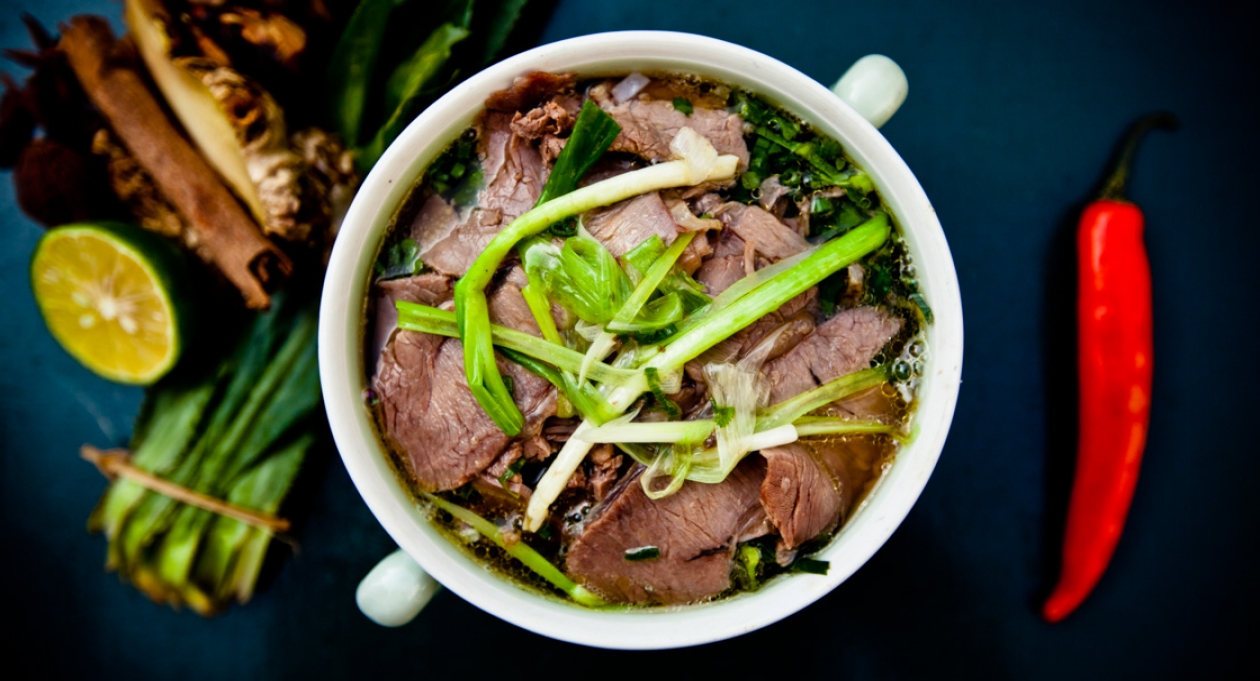 Pho is a Vietnamese noodle soup constructed with handmade noodles, thick-flavored broth, and different toppings of your choice. So what makes Pho better than other noodles? Firstly, the flavor is just great and the broth consists of most of it. Additionally, the herbs added gives a nice punch and aftertaste. Pho has different versions of the recipe as it has seen the cultural change in a different phase of Vietnam. Take a warm break with Pho in your visit to Vietnam.
13. Thakali Khana (Nepal)
Price: – 4 to 9 USD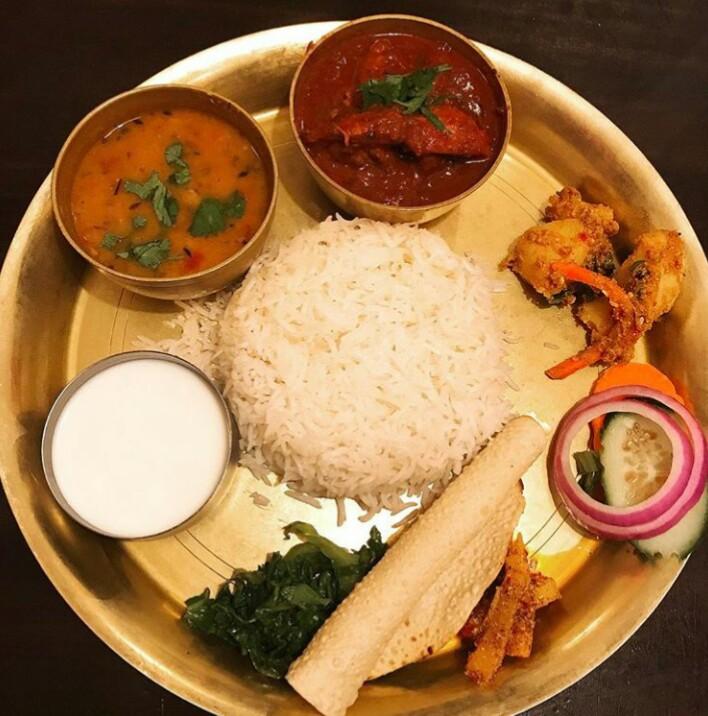 Thakali Khana inspiration is straight from the Thak Khola region of the Annapurna region in Nepal. It is an array of foods using local ingredients on a single platter. Except for three or four major components Thakali set might include different ingredients depending on the season or place you'll eat it. Dhindo or Rice acts as the base starch and we have different forms of vegetable curry and pickles to accompany it. You can choose the veg or non-veg platter and enjoy the taste of the Himalayas. Enjoy Thakali Khana with hands (i.e., finger feeding), One can feel as well as taste the food.
Asia is a paradise for food lovers and the delicious foods stay with you wherever you go. For the best tips stay with the local guide as they know the best place to find many. Food is an important part of history and culture, so never back down to taste the uniqueness and art of different cuisine around Asia.